Discussion Starter
•
#1
•
BMBEN's Adventure Rides 28/10/2010 Ben Hall Trail NSW
BMBEN's Adventure Ride
Thursday 28th October 2010
Destination:
Drive Tour Tracing Ben Hall
Grenfell, Forbes and Parkes NSW
With the weather being so good at this time, up to 30°C and to hot to be standing in it, while working on the roof and sick of being at home, I decide to go for a ride. The month before I had picked up a new leaflet, about a drive tour tracing Ben Hall. A bushranger that had terrorized this area in the 1860's. I had planed out my route with the places of interest that I wanted to look at, printed of the maps and wrote on the street names that I needed. This was a bit pointless as most of the roads are without names or are different and at most intersections they only have a destinations sign.
It's 10.30am and I have finally got myself together and I am ready to go. I topped up with fuel and headed south to Gooloogong and then onto Grenfell. I turned right onto the Mid Western Highway and headed west for 15km to the next turn off. It was to Pinnacle and the street name was not the same as I had written down. I went up the road for about 500m and thinking that it's not going in the right direction, I turned around and went back to continue along the Mid Western Highway and only after 1km there was the correct turnoff to Pullabooka. Now it's 12km to the intersection at Sandy Creek Road and the site of Ben Hall's Homestead.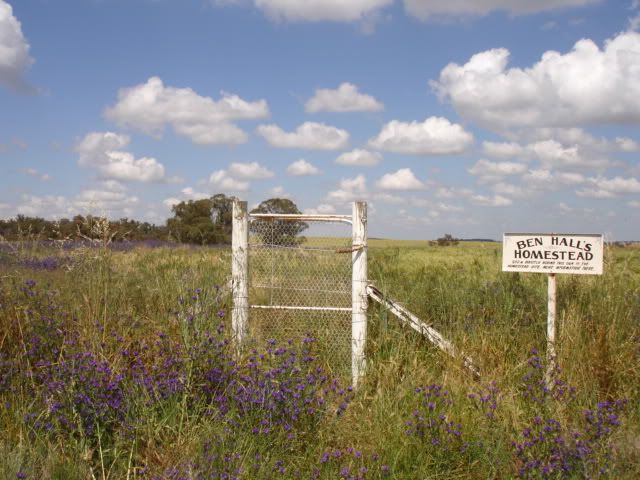 Somewhere in the trees on the left is where the house was burnt down by a police party in 1863. I did not go in as the wheat crop was waist high and the Patterson's Curse was shoulder high and no visible track.
Now heading 50km north along Sandy Creek Road to Forbes. This perfect road winds through the flat farming countryside.
Riding along, sitting on about 95km/h and thinking to myself, this is going to take about 3/4 of an hour.
So how long would it have taken 1 man on a horse ????
Now back in Forbes, the next stop was the Forbes General Cemetery to have a look at Ben Hall's Grave.
In the background and 25m to the right is where his sister I buried. A lot of these important people have signs pointing the way to there grave sites.
I had worked out that I could see the grave on the way to the next stop. Ben Hall's Shooting Site.
Heading west out of Forbes along the Lachlan Valley Way in the direction of Condobolin and around some back roads and onto Ben Hall Road. Then 6km along a very good dirt road (easy accessible with 2 wheel drive) to the shooting site. Along the way I had to trundle along for 2km through a sheep herd. Wow! that was interesting, with all the different backsides bouncing and zig zaging in front of you.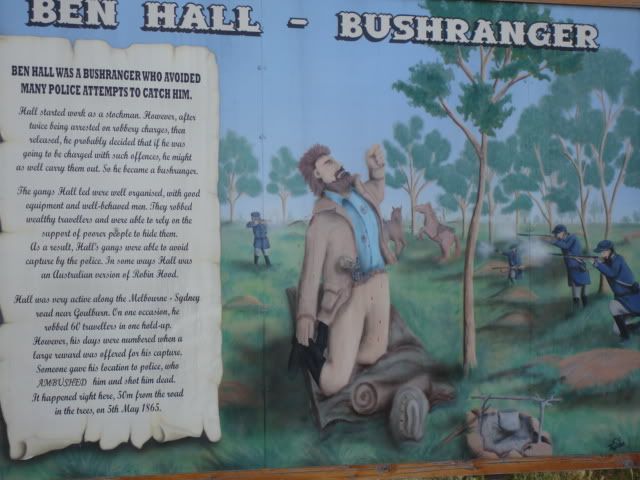 From here I continued north and came out onto the Bogan Gate Road, then still going north for 10km I then turned right at Gunningbland and followed the railway line back east into Parkes. This road started as dirt, but half way along after crossing the railway line again, it changed to bitumen.
Back in Parkes, now 2.00pm, I topped up with fuel and went up onto Memorial Hill (War Memorial) to have a look and a bite to eat for lunch. There are some fantastic views from here, the highest point in Parkes, but the only let down is there are no shelters for shade or toilets. As soon as I stopped, 6 magpies show up wanting food. A walker that had arrived told me, they would eat out of your hand. I took this photo looking in the direction of home and Sydney.

Leaving Parkes I had decided to take some dirt back roads back to home. The first was Back Yamma Road. It runs south and is in between the Newell Highway and the Parkes/Eugowra Road. 25km later I came out ½ way along the Parkes/Eugowra Road then 11km of bitumen where I turned left onto Mackay Creek Road (the second). This was the last 5km of dirt roads for the ride then back onto the bitumen and through to Four Ways and then to home.
Riding through the area near Four Way, its no wonder they are saying it is a bad season for Paterson's Curse. I stopped in one place and to take some photos and I did a 360 and all that you see was various shades of blue/purple Paterson Curse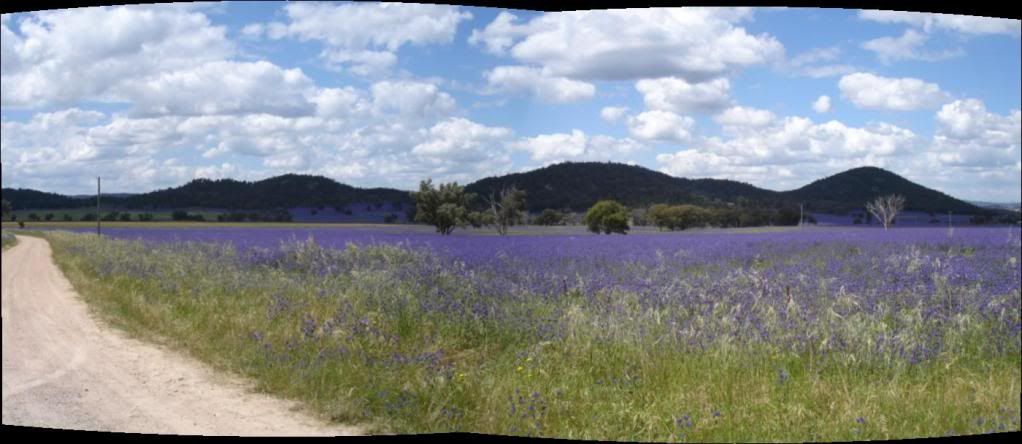 A really good ride, good weather and good roads. I got home at 3.30pm and traveled 280km
Regards Franz G